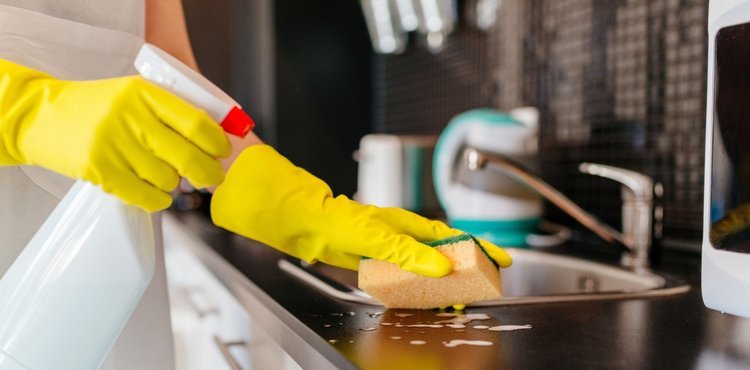 Moving is an exciting experience for some people those who think about the new friends and new possibilities. But for others, it can be terrifying and not so easy to have to live in a new area and get to know new people. But one thing I am sure everyone will be most excited about living in a new house.
Whether it's a new house you are moving into or a rented house, there are certain home cleaning tips for moving in that you should consider in order to make sure that your new home is pleasant and germ free before you start living in it.
Move In Cleaning
If the house has been used by someone before you, you should make sure that it is bacteria free.
I am sure you wouldn't like to use the bathrooms without cleaning that has been used by someone else.
The deep cleaning of the house would make you 100% sure that there are no harmful bacteria that may have accumulated after the use by previous tenant.
The windows might have gathered dust into the channels or the glasses are not clear enough to see through.
The oil and grease in the kitchen attracts pest such as cockroaches, flies, ants etc.
Why would you let that happen when you can call a Professional Cleaning Service Company in Pune like Dirt Blaster Cleaning Services?
In case of a fresh builder purchased flat, please understand that various people have been into the flat before the handover such as plumber, painter, carpenter, electrician, flooring guy, fabrication guy etc. There have been many people that have been into your flat before you move in.
In some cases, these workers use the facilities in your flat too.
Also, when it's a brand new flat, it doesn't mean it's 100% clean. You will find a fine dust everywhere.
The window tracks may have cement stains or debris. The balconies may be dirty because of dust. So you have to get the deep cleaning of the flat done before moving in.
Move Out Cleaning
When you have stayed in a house for some time, it is wise to get it cleaned before moving out of the flat.
If it's your own flat and you are planning to rent it out, you must get the flat deep cleaned and hand over a fresh and clean flat to the tenant.
By doing this, you make sure that when the tenant moves out, he will also get it deep cleaned before handing over the keys to you.
By doing this you make sure that your property remains in good shape for long.
As a tenant, it's your moral responsibility to give the flat back into the same condition just like when you had moved in.
Also few home owners may compulsorily deduct some amount from your deposit against the deep cleaning charges (which may be higher than what you would have paid to any professional cleaning services company by yourself).
Let me give you some examples related with this.
Assume you are a tenant who has lived in the flat for quite a sometime and now you are planning to move out.
Now consider this scenario. If your shower head or jet spray of the bathroom doesn't work properly or doesn't have enough water pressure, this may be because the holes of it have clogged with lime scale.
Now when the owner sees this not so properly working shower, he/she may start asking for the replacement of the same. Now as a tenant, you can't do much except argument as the owner has your deposit with him.
In such cases, deep cleaning services in Pune will come handy. In deep cleaning, we clean the shower head or jet spray head with lime scale remover chemical so that the flow of the water comes properly.
By doing a deep cleaning, you can avoid any deduction of your deposit.
Similarly in case of kitchen, the oil and grease accumulated over a period of time may cause the trolley and hinges getting stuck into its channels. This may give your owner opportunity to deduct the money.
But now as you know that in deep cleaning, we remove the grease and oil from the kitchen inside out which will free their movement. You can definitely save your deposit by spending a little on deep cleaning services.
For Professional Move In Move Out Cleaning Services in Pune & Pimpri Chinchwad, call Dirt Blaster Cleaning Services on 7350321321.